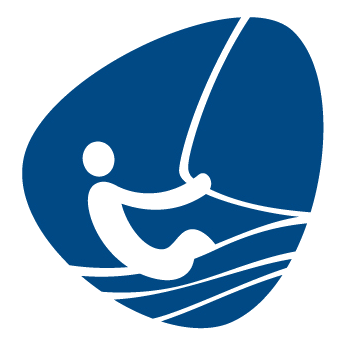 Sunday, August 7, 2016
Will American Sailors Return to the
Medal Podium?
By Gary Jobson
After four years of preparation, the United States Sailing Team is ready to take on the best sailors in the world on the waters off Rio de Janeiro. Up until this point media reports about the water pollution have overshadowed the competition. Many eyes will be watching carefully to see if debris in the water has an effect on the teams. At the opening ceremony on Friday night, the anticipation of racing in the Olympics by the sailors was inspiring. When the huge American team came out of the tunnel there was a rousing ovation for all the athletes, including the fifteen USA sailors. Joe Morris, from Annapolis, was in the front row leading the parade. Country flags were carried into the stadium by thirteen sailors. NBC broadcast many cutaways of American athletes throughout the first night of coverage. Many sailors were seen with big smiles taking selfies. It was a night for celebration. Now the hard work starts.
Only three of the USA sailors have raced in the Games before. Historically, the USA has won more medals in sailing than any other country, but in 2012 the squad went home empty handed. Between 1984 and 1992 the USA won 21 medals in sailing. However, in the period between 1996 through 2012 the USA has only won ten medals. Team Leader Josh Adams has been working around-the clock, with a talented group of coaches and support personnel, to improve America's chances.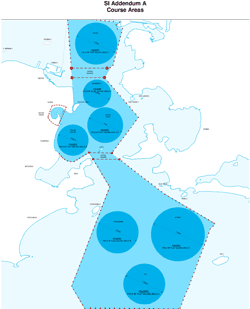 At the beginning of any competition, the score is tied at zero points. At this moment every sailor has high hopes that they will prevail over the six scheduled days of racing. While pollution and debris have been at the forefront of news for the past year, the real test for these sailors is finding a way to use the shifting winds to their advantage. There are seven circles. [See course descriptions graphics below.] Most of the racing will take place well out in the ocean where big ocean swells and chop will be challenging. Superior boat speed will be essential. The top ten finishers at the end of five days will qualify for the Medal Race. This course is off Flamingo Beach. The wind here is shifty and the waves smooth. The Medal Race counts for double points.
David Dellenbaugh, the American coach, is charged with figuring out the best strategy on how to use the currents and read the wind shifts. Many on the team were outstanding collegiate sailors and should perform well in the tricky winds on the Medal Course. There are ten classes sailed by eight men and seven women. In my opinion, the USA has an encouraging chance to reach the Medal Race in six classes, with possible medals in five classes.
The wind blows across the race course in waves. There are moments when the breeze is steady and strong, and then it can suddenly disappear. This will likely jumble the positions in many races. Every boat will have both good and bad moments. A strong, positive attitude will be an important asset. Watch the scores each day and you will see big swings in the point totals. Keeping a good consistent average will be the biggest test.
Unprecedented TV Coverage
Beginning on Monday, August 8, NBC will broadcast an unprecedented amount of coverage of sailing. Every day two of the classes will be broadcast live on the Internet at NBCOlympics.com. Later in the afternoon there will be a 30-minute program with sailing highlights and analysis. These shows will air on MSNBC or CNBC. I will send out an updated schedule with my daily reports. Randy Smyth and I will be the commentators. Chris Lincoln will be our producer, along with our production assistant, Jessica Kurtzman, who is a senior at the University of Washington. Chris directed the World Feed sailing coverage for the International Olympic Committee in 2008 and 2012. His group won the IOC award for the best produced coverage of any sport. We are lucky to have him on sailing with us at NBC. We will be taking the World Feed that is being directed in Rio by Leon Sefton. Leon produced the America's Cup from San Francisco in 2013. I look forward to working with Randy, who has won two Silver Medals in the Tornado Class in 1984 and 1992. He was also on Dennis Conner's Stars & Stripes crew for their successful America's Cup defense in 1988. Randy and I were the commentators for ESPN during the 2010 America's Cup. Like the sailors, we have some busy days ahead. I hope you will join us. Please tell your sailing friends to tune in.
Here is my review of the
US Sailing Team's prospects in Rio: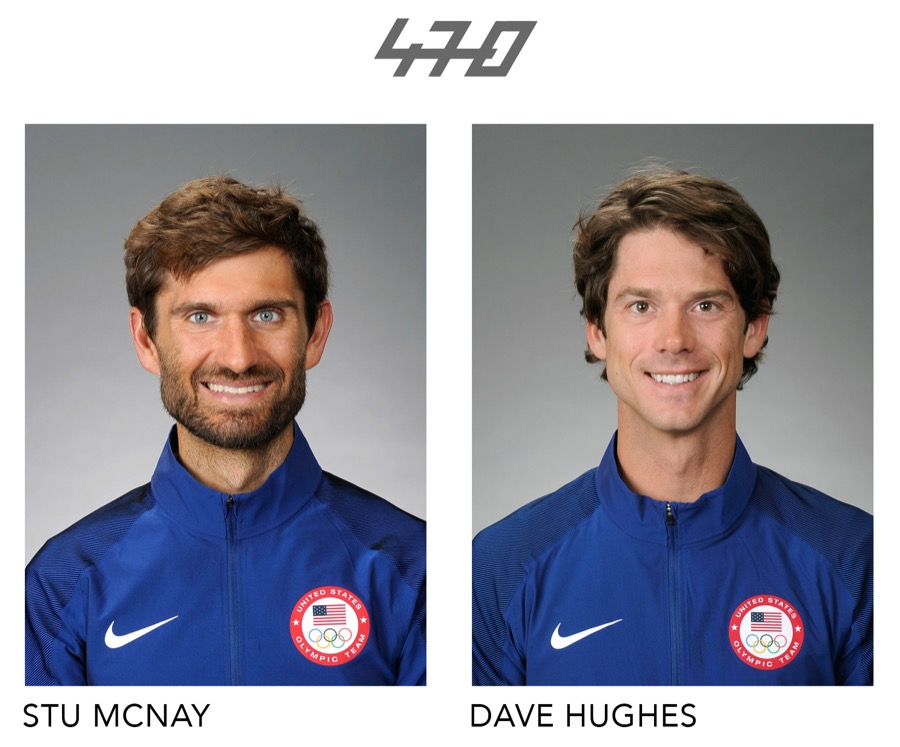 470 Men - Skipper Stu McNay is sailing in his 3rd Olympics. He was an All American sailor at Yale. For this Olympics he has teamed up with Dave Hughes, who was a coach in 2012. Hughes was a Rhodes Scholar finalist and has been an intern in Congress and in the White House. This team has tough competition from Australia, Croatia and Argentina. Based on their improving results over the past two years, they are capable of earning a medal. Their coach is 470 Silver Medalist (1992) Morgan Reeser.
470 Women - Skipper Annie Haeger and her close friend Briana Provancha were standouts at Boston College. They won the test event in Rio last year. Dave Ullman, one the most respected sailors and coaches in America, and one of this year's inductees into the National Sailing Hall of Fame, has been a huge asset. They have an outstanding chance to medal.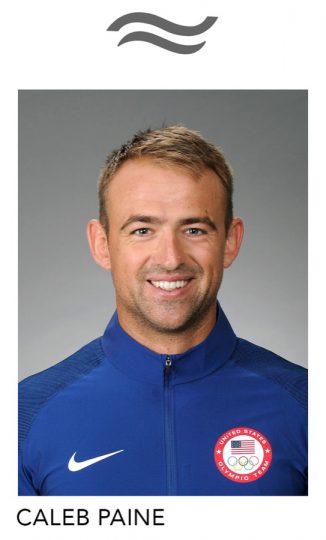 Finn - Caleb Paine has his work cut out. The top Finn sailors come from England, Denmark, and Holland. Paine has been sailing in the top 10 in most regattas. He could put it together for a medal. The veteran, Luther Carpenter, is his coach.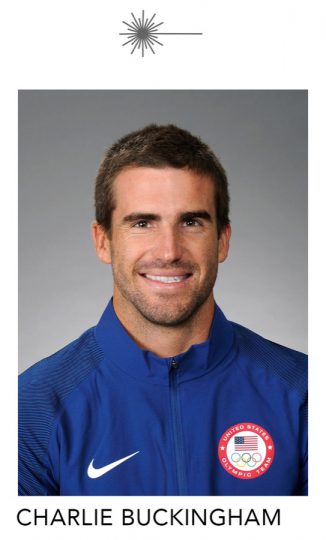 Laser - Two-time College Sailor of the Year, Charlie Buckingham, also consistently finishes in the top 10 in most regattas. His coach, Mark Reynolds, another National Sailing Hall of Famer, holds two Gold medals and one Silver medal in the Star Class. That experience could help Charlie immensely. All eyes in Rio will follow Brazil's superstar Robert Scheidt closely. He has won five medals in the past five Olympics. Can this master win another medal at the age of 43?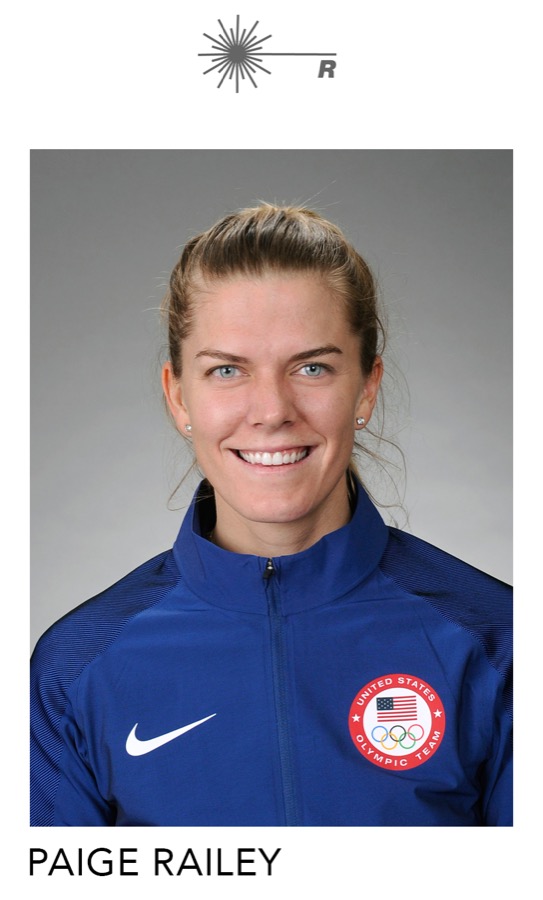 Laser Radial - Paige Railey has been winning for many years. At the age of 29 she is at the peak of her career. She has recovered from a cycling accident a few years ago. Her second place finish at the Worlds earlier this year was a big confidence booster. She is one of America's top prospects to Medal in this, her second Olympics.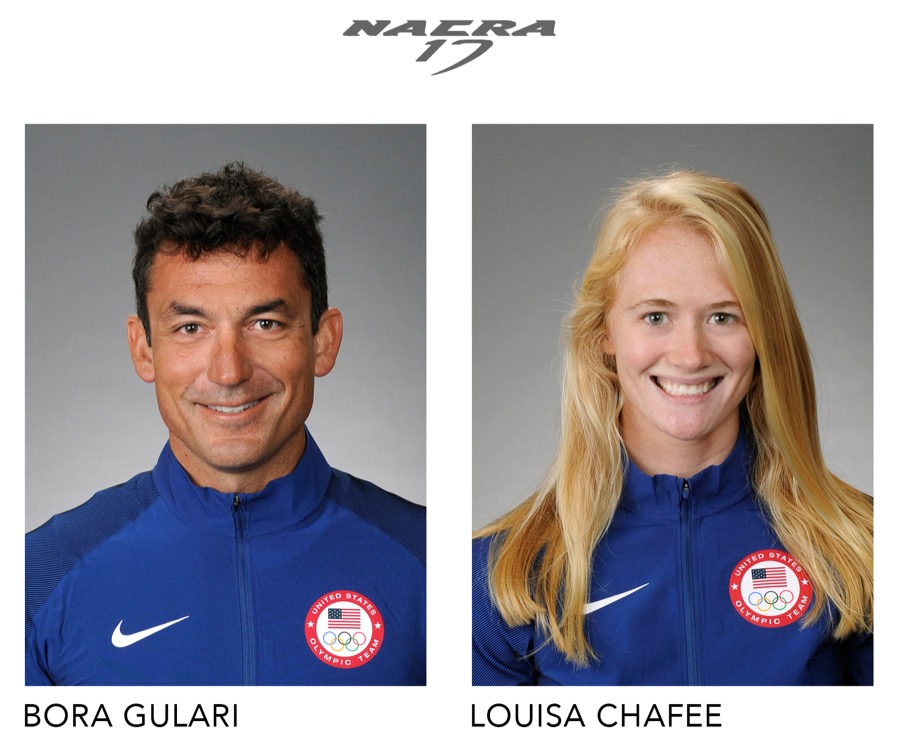 Nacra 17 - Bora Gulari entered this class only one year ago. His crew, Louisa Chafee, was an All America crew at Brown University. At 41, Bora is the oldest member of the US squad. They have a good chance of reaching the Medal Race. Two-time medalist Jonathan McKee is their coach.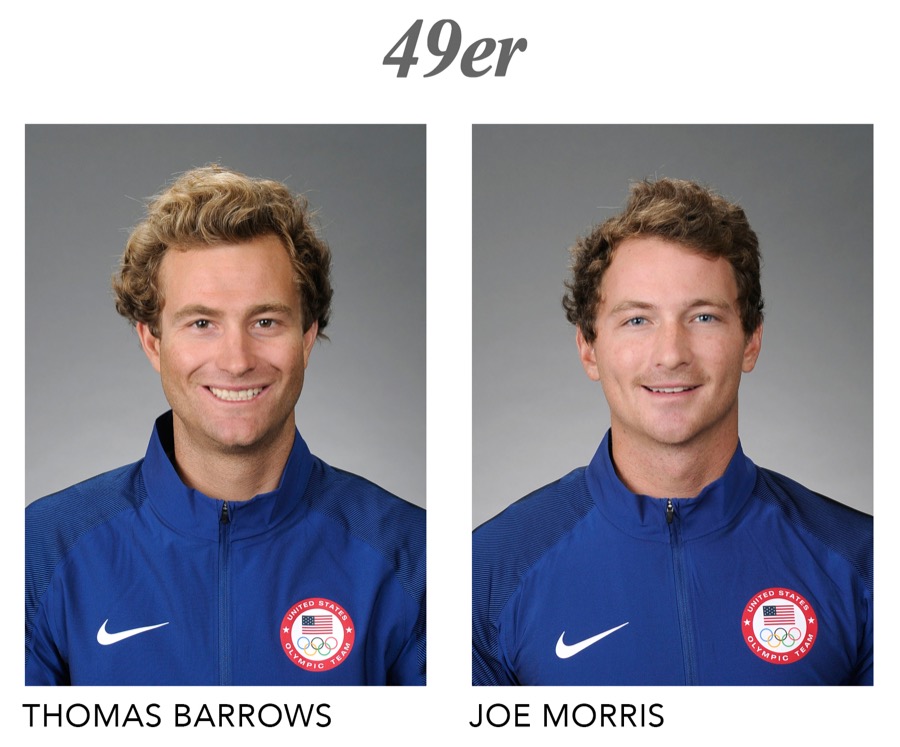 49er - New Zealand's Peter Burling and Australia's Nathan Outerridge are heavily favored to dominate this class. Denmark and England are also sending strong crews. Thomas Barrows and Joe Morris were All Americans at Yale. They have come a long way over the past two years. It would be a huge victory for them to reach the Medal fleet. Barrows raced a Laser in the China Games in 2008.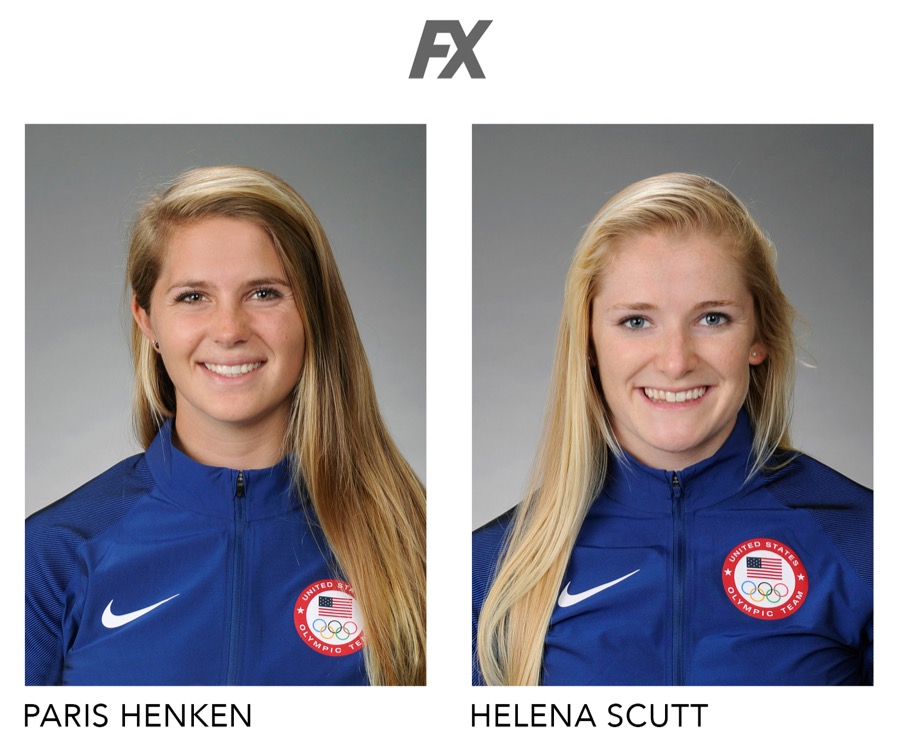 49erFX - Paris Henken, at 20, is new to the Games, and at racing skiffs. She and crew, Helena Scutt, were Bronze medalists at the Pan Am Games in Toronto last summer. Helena is also recovering from an injury, but is ready to go. Reaching the Medal Race will be difficult, but look for this crew to be around for along time. Brazil's Martine Grael will be a hometown favorite. Her father, Torbin, won five medals in six Games.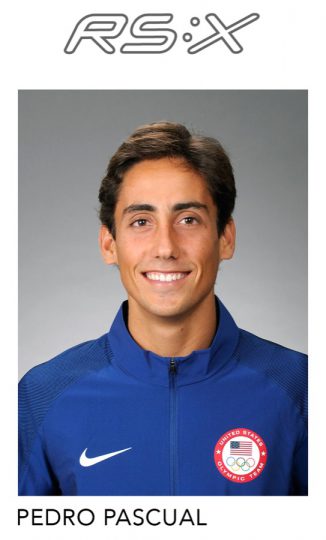 RS: X Men - Pedro Pascual has been successful in the USA Youth Development program. His experience in Rio will be a benefit in future years, if he decides to continue racing. Poland, France, Holland and China are strong in this class.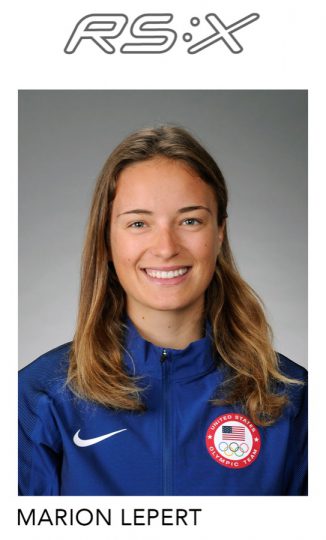 RS: X Women - Marion Lepert was born in France, and moved to the USA when she was nine. She won a Bronze Medal at the Pan Am Games in Toronto. France, Poland, Spain, and Israel are favored in this class.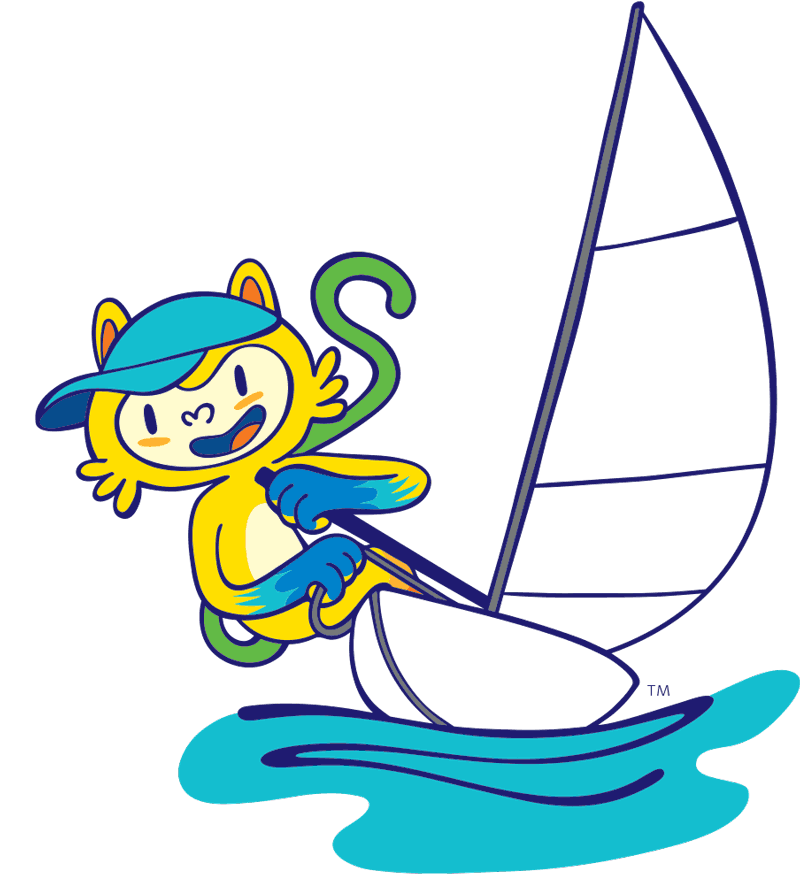 ---