By Gary Jobson
July 31, 2013
The anticipation around the waterfront in San Francisco is building in advance of the Louis Vuitton Cup Semi-final series scheduled to start on Tuesday August 6.At this writing no one has any idea whether Artemis Racing or Luna Rosa will advance to the final against Emirates Team New Zealand?The only known answer to this question is one team will advance the other will be eliminated.

So far it has been an uneven summer for both Artemis Racing and Luna Rosa. The tragic capsize by Artemis Racing on May 9 was a big setback for this team.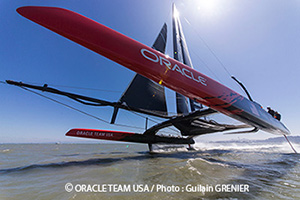 By Gary Jobson
August 2, 2013
When I arrived at Pier 80 on the San Francisco waterfront for my day of sailing aboard Oracle Team USA's AC 72 catamaran, the first sailor I met was the tactician, John Kostecki. His first words got my attention, "When they give you the safety lesson, pay attention!" Later that morning I got the safety briefing that included how to wear the wet weather gear, use an oxygen tank, strap on a helmet, and know what to do in case of an unscheduled problem.
By Gary Jobson
August 13, 2013

The biggest question in every sport is who is going to win the contest? On paper, Emirates Team New Zealand looks like an easy victor against Italy's Luna Rossa in the Louis Vuitton Cup challenger trials. In July, New Zealand defeated Luna Rossa in every head-to-head race by over one mile. Last week, however, the Italian crew improved each day against Artemis Racing in the semi-final match. Did the competition help Luna Rossa enough to possibly defeat the powerful Kiwis?
By Gary Jobson
August 20, 2013
Usually, when I watch a sporting event, I cheer for one team or the other. At this point in the Louis Vuitton Cup Final, I am cheering for the regatta itself. Please let's complete a full race with both boats crossing the finish line! After three days, we have seen three races and only one boat finish each race. Is this America's Cup going to get rolling?
Read more: AC Report #4: What Will Happen Next in the Louis Vuitton Cup?